Hull design for the 2m cat designed in the 2013-2014 academic year.
Design Goals
Edit
The design of the hulls originally were to model the AC 72 boats sailed in the America's Cup race. Inspiration also taken from several other model boat forums.
Current Progress
Edit
---
---
February 16, 2014 -----
A full solid works model has been constructed.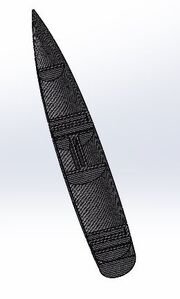 Ad blocker interference detected!
Wikia is a free-to-use site that makes money from advertising. We have a modified experience for viewers using ad blockers

Wikia is not accessible if you've made further modifications. Remove the custom ad blocker rule(s) and the page will load as expected.